★★★★★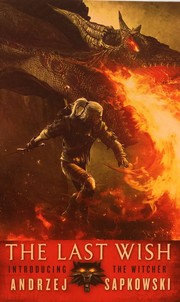 ISBN: 9780316029186
Publisher: Orbit 2008
Pages: 384 Links: WorldCat • Read Online • LibraryThing • Google Books • BookFinder
Polish author Andrzej Sapkowski's books have been translated into English, made into a movie, a television series, a role-playing game and a comic book series. The first of the Witcher books, The Last Wish, is an anthology of six interconnected stories, interspersed with a running narrative.
Geralt, the white-haired witcher of Rivia, is a man who has been especially trained as a hunter of evil and monsters, who has been mutated using hormones, herbs, viral infections and the Trial of Grasses to enhance his physical and mental capabilities; they can also perform sorcery and are extremely dangerous.
A seven-part narrative links the varied adventures of Geralt… The Voice of Reason is set a temple of Melitele, where the witcher is recovering from a deadly wound inflicted on him by a striga (in The Witcher). It also introduces the various characters who appear in the short stories.
In the first story, The Witcher, Geralt is hunting a striga. But the striga is a princess, and she's not to be killed, but only restored to her natural self, a far more challenging task. The King's advisors, on the other hand, do want her killed, and that's what makes the story more complex.
Next, in A Grain of Truth, Geralt finds a pair of corpses in the forest and decides to investigate – what he comes up with is a warped version of The Beauty and the Beast. But not quite.
In The Lesser Evil, Geralt meets the wizard Stregobor, who is being hunted by a cursed creature who kills for pleasure.
Geralt attends a banquet disguised as a noble in A Question of Price. The mystery involves a princess and the Law of Surprise – a man who saves another's life can demand an 'impossible' wish.
Joining Geralt and Dandelion (a troubadour) join forces in The Edge of the World to sort out a doevel and find they're involved in a lot more than just getting rid of a little troublemaker.
In The Last Wish, Dandelion is severely injured by a djinn; Geralt employs the services of a powerful, but dangerous sorceress named Yennefer whose reasons for helping the witcher are questionable.
An interesting mish-mash of folklore, legend and fantasy. I liked the book overall, but given that the whole book is made up of short stories and the interwoven storyline is so brief, it leaves me wondering whether I've missed something, or perhaps its lost something in the translation? In either case, worth a read.
"To be honest, I've always been a bookworm. So I've turned my love of books into a design career that I enjoy."
A book designer, Arati has always enjoyed books and the world of imagination that they open up. She is extremely accident-prone, due entirely to absent-mindedness caused by thinking about books and their contents, instead of paying attention to what she's actually supposed to be doing. She reads multiple books simultaneously, and her choices range from cookbooks and design manuals to fantasy, crime and Regency romances.
She lives and works in London, UK and sells her art on paper and textiles at
Etsy
Latest posts by Arati Devasher (see all)