★★★★★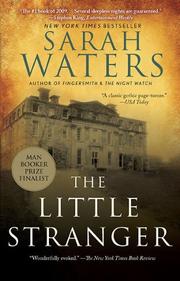 ISBN: 9781594484469
Publisher: Riverhead Trade 2010
Pages: 528 Links: WorldCat • LibraryThing • Google Books • BookFinder
Things that go bump in the middle of the night – check. An eerie, crumbling mansion – check. Landed gentry who seem to be going mad – check. The Little Stranger, has all of these and much, much more.
Written in the first person, the story is told from the perspective of a country doctor, Farraday, the voice of science or rationality that all horror stories need. One day Farraday is called to the 'big house' to treat a housemaid. He's never really been inside and is curious to see how the gentry live, especially as his mother was once a kitchen maid with the family. What he finds is a a house, quickly falling into disrepair, and a family struggling to maintain appearances. Despite the class differences, he soon strikes up a tentative friendship with Caroline, the unmarried daughter and Roderick, her damaged younger brother (still recovering from WWI).
One evening the family throws a small dinner, where a couple bring their young child. Suddenly Caroline's gentle labrador viciously attacks the little girl, almost as if possessed, and Caroline is forced to put her beloved pet down. And that, is the beginning of it all. There are mysterious noises, things written on walls, burn marks and unexplained phone calls. It might all sound very cliched, but trust me, it really isn't. Waters is a master at creating atmosphere, and in this book she excels in setting a tone of creeping unease and horror. At the same time, she also adeptly captures English society at the turn of the 20th century, as socialism starts to gain a stronghold in the country.
This really is the best kind of gothic horror story – thrilling, addictive and lingering.
"I'm a confessed bookaholic, but haven't had the nerve (or ingenuity) to make a career out of that. So I do the next best thing - I spend my free time reading, buying, borrowing and discussing books... and books about books."

Maya always has three books going at the same time - a different book for every mood. She loves exploring new authors, but every now and then she sinks back into the comfort of old favourites like murder mysteries and Regency romances. A corporate butterfly, Maya lives and works in Bangalore, India.
Latest posts by Maya Chandrasekaran (see all)