★★★★★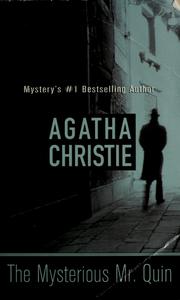 ISBN: 9780312981600
Publisher: St. Martin's Paperbacks 2002
Pages: 272 Links: WorldCat • Read Online • LibraryThing • Google Books • BookFinder
This is perhaps my favourite Agatha Christie book, and in fact, Christie herself admitted that Mr. Sattherthwaite, and the eponymous Mr Quin, were two of her favourite characters. It's a wonderful series of vignettes, short stories told through the elderly gentlemen – Satterthwaite – with Quin as the mysterious and enigmatic detective who always materializes at the opportune moment to enable Mr. Sattherthwaite to deduce the solution to whatever particular conundrum do be currently baffling him. And they are real doozies.
Mr Harley Quin completely stands out amongst Christie's idiosyncratic detectives. Like Parker Pyne, Harley Quin never figures in any novels, although Mr. Sattherthwaite does. The meetings between the two are a clever mixture of planned serendipity. Coincidence that was meant to happen. There's a strong thread of destiny to the mysteries that get solved, often they span years, decades even. It doesn't take Mr. Sattherthwaite time to find the solution, but he can only do it in the presence of Mr. Quin. Therein lies the beauty of the stories.
Countesses and soldiers, playwrights and painters, are brought together, as often as not love is an important resolution in many of these stories. Others are superbly resolved murder mysteries, involving the vagaries of time, the stupid follies of humanity, and well…read it, really. Its well worth it. The Voice in the Dark, The Face of Helen, The Worlds End, and Sign in the Sky are my favourites, but feel free to choose your own. I particularly like The Worlds End. Call me sentimental, but there's something just a little poignant about the star crossed lovers that reunite in it. The Soul of the Croupier is a tad contrived, but still Whether to avert impending tragedy or to restore happiness to the unfortunate, Mr Sattherthwaite and Mr Quin deal with crime in what is almost a fairy tale whimsical setting.
As the book progresses, Mr Quin's nature becomes more and more revealed, and while I don't want to spoil what is a very special ending in the concluding story – A Harlequin's Lane -, I have to say it so wonderfully constitutes, in a single tale, a genre in itself, a L'Esquisse Mysterieuse (The mysterious sketch). The basis, naturally, of the character of Harley Quin is in the 16th century Italian Commedia Dell'arte. The model of the work lacks no ambiguous version, while there might be occasional supernatural intervention towards the end, it lacks in no way surreal existence. Read and approach anyway you like. You won't go away disappointed.
"Bibliophilia, or more realistically Bookaholism runs in my genetic make-up. I've grown up being read to, reading, and surrounded by books."

From Bangalore but based primarily in New Delhi, India, Samir has variously been and continues to be a professional musician, a pub quiz host, a political campaign aide, and a student of the guitar, as well as history and international relations. He is currently Research Director for the Global Security Centre in India. He is also a freelance editor and research consultant, having worked for the Ministry of Overseas Indian Affairs, the Public Health Foundation of India, and a McKinsey-IBM KPO, as well as Random House and Oxford University Press. He can be contacted at samirkrishnamurti@gmail.com
Latest posts by Samir Krishnamurti (see all)