★★★★★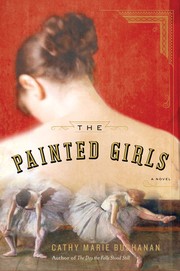 ISBN: 9781594486247
Publisher: Penguin 2013
Pages: 357 Links: WorldCat • LibraryThing • Google Books • BookFinder
I was lucky to get an advance copy of The Painted Girls. It is the touching story of Marie Van Goethem, the fourteen year old model for Degas' sculpture 'Little Dancer Aged Fourteen'. Though the story is fictionalized, much of the novel is in keeping with facts. The author has woven the story around two pieces of art by Degas – the statuette 'Little Dancer Aged Fourteen' and a Degas painting titled 'Criminal Physiognomies'.
The background of 'Little Dancer Aged Fourteen' is Marie Van Goethem and the Paris Opera where very young girls often from poor families strive for success on the stage. They are Painted Girls – their gaunt faces and thin arms painted for the stage. 'We are the daughters of sewing maids and fruit peddlars, char women and laundresses, dressed up and painted to look like something we are not…….girls born into squalor trying to find grace in ballet'. Degas sees young Marie at ballet practice and chooses her to be his model for 'Little Dancer Aged Fourteen'. When that sculpture was displayed at the Sixth Impressionist Exhibition of 1881, it received mixed reviews. The majority of critics were shocked by the piece. They said the girl was ugly, 'a flower of the gutter', that Degas had picked 'from the hothouse of the theatre a sapling of precocious depravity", that her face had "the detestable promise of every vice'. She looked like a medical specimen, they reported, in part because Degas exhibited the sculpture inside a glass case. People said the sculpture would look more at home in a Natural History Museum. The critics did not remember that behind the sculpture was a real child, poor, hungry, tired, trying to earn a meal by posing for an artist.
The background of Degas' 'Criminal Physiognomies', were two murders that took place in Paris. Two young men, Emile Abadie and Pierre Gille were arrested, tried and sentenced for murder.
Painted Girls is written against this artistic background. However it is above all a poignant story of three sisters. In telling the story of the Van Goethem sisters, whose father is dead and mother an alcoholic, Cathy Marie Buchanan has explored several themes – the love that binds the sisters is a major theme; Childhood poverty is another. Children like Marie and her sisters Antoinette and Charlotte are born to a life devoid of nourishment, love, security, guidance, role models. Monsieur Zola would say they don't have 'a lick of a chance'. The novel is Dickensian in its treatment of childhood poverty.
The book exposed me for the first time to the current ideas of the day with respect to biological determinism which had their source in Charles Darwin's Theory of Evolution. Degas like several others of his time, believed in the concept of 'innate criminality'. The idea that certain members of society were throwbacks to earlier, more animalistic evolutionary stages was not Degas's alone. Degas had gone to the courtroom during the Abadie-Gille trial and sketched the two men with animalistic expressions. At the 1881 Impressionist Exhibition, the statuette of Marie Van Goethem and the painting of Emile Abadie and Pierre Gille were placed next to each other. Was Degas hinting at Marie's possible criminality in the future? Was that prediction based on nothing more than her appearance or social class? This and other topics the book covers will make for animated discussion.
I enjoyed the structure of the book alternating between Marie and Antoinette as narrator, interspersed with newspaper clippings from The Figaro. Both narrators captivated my attention. Something else I enjoyed in the book was Paris. It was not the Paris of lights and glitz but rather the underbelly of Paris with its poverty, slums, violence and prisons.
Painted Girls is also a novel about survival and the resilient human spirit. If you like historical fiction you will enjoy this book. It forced me to go back to Degas, re-read his biography and enjoy his works once again, many of which I had just seen at the Musee D'Orsay in Paris including 'Little Dancer Aged Fourteen'. I found the book educational since the author stays close to known facts, I enjoyed the story and I loved the ending. I enjoyed Buchanan's The Day the Falls Stood Still immensely. That would have been a hard act to follow but Painted Girls was just as good. I want to go back to Paris, to the museums and see Degas' works once again. I will look at the dancers, bathers, laundresses differently for having read this book. I highly recommend the book to lovers of Paris, historical fiction, art or just those looking for a good read.
"Books have entertained me, kept me company, taught me, counselled me, introduced me to wonderful people... what else can one ask of a best friend?"

Geetha`s love of books began when she was a child. She later turned that love into formal education with a Masters in English Literature and then again into a career for a few years, teaching English at Ethiraj and Fergusson Colleges in India. Though her career took her into the computer industry, Geetha has continued to read both individually as well as part of a book club in Newmarket, Canada where she lives.
Latest posts by Geetha Kulkarni (see all)