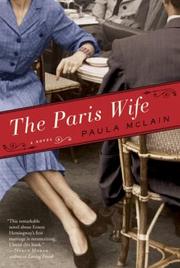 Links: WorldCat • LibraryThing • Google Books • BookFinder
The fictionalized story of Ernest Hemingway and his first wife Hadley Richardson and their five years in Paris, Paula McLain's "The Paris Wife" is an engaging read especially for its insight into Hemingway's personality, his early career as well as a glimpse into the literary and social scene of Paris in the 1920s.
There were two resounding reasons I was predisposed to enjoy the book. Firstly, I have just finished reading the book, a week before a planned trip to Paris, in which city I hope to haunt the streets and cafes Hemingway frequented. Secondly, being Canadian, Hemingway's career as a journalist for the Toronto Star gave the book a personal connection. I start my morning with the Toronto Star which publication sustained Hemingway in his early struggles as an author. I laughed out loud to read that The Star once sent Hemingway on assignment to the Toronto Zoo to welcome a white peacock! Talk about under-utilization of talent!
The social scene of "the lost generation" is wild and bohemian. Excess is the name of the game as the characters that populate the book engage in excess alcohol, wild parties, dangerous sport, open marriages and roving affections. Paris is so forgiving, "an artist given to sexual excess was almost a cliché but no one seemed to mind. What was really unacceptable were bourgeois values, wanting something small and staid and predictable like one true love or a child". As is to be expected, this life style ends in broken hearts and marriages including that of the Hemingways. And yet, in the midst of all this are born some of the greatest novels of the century. Of great interest are the characters we meet as the novel proceeds –Sherwood Anderson, F. Scott Fitzgerald, Gertrude Stein, James Joyce, Ezra Pound to name only a few.
The book reveals Ernest Hemingway himself to be a tortured soul, carrying the scars of his experiences in the First World War and the rather unpleasant memories of childhood. He is not always a sympathetic character and can be mean spirited and vindictive as when he writes ridiculing Sherwood Anderson who gave him his first break. Hadley is traditional, far more stable than Hemingway and not as passionate or adventurous; she sees herself as a misfit in Paris. "If the women in Paris were peacocks I was a garden variety hen".
Hadley does not have Ernest's passion and dynamic personality but she brought to him the stability that he needed. She recognised that his creative genius far exceeded his failings as a husband and supported him through the years they lived together. Had Hemingway remained married to the stable, sensible Hadley, he may have had a happier life. In the end she finds love and happiness after Ernest Hemingway but he marries three times after Hadley, and finally ends his life by suicide.
The book is very well researched and though it is a fictionalised version of the lives of Ernest and Hadley Hemingway, it is very close to fact. The author keeps the reader engaged throughout and the book is especially enjoyable after the couple move to Paris. The book will revive the reader's interest in Hemingway; I will certainly go back to his novels which I have not read since University. I highly recommend this book to those interested in the literary scene of the 1920's, those who want a glimpse into the psyche of one of the greatest writers of the 20th century. Ernest Hemingway's "A Moveable Feast" would be the natural book to read after The Paris Wife. In that book Hemingway says of Hadley "I wish I had died before I loved anyone but her".
"Books have entertained me, kept me company, taught me, counselled me, introduced me to wonderful people... what else can one ask of a best friend?"

Geetha`s love of books began when she was a child. She later turned that love into formal education with a Masters in English Literature and then again into a career for a few years, teaching English at Ethiraj and Fergusson Colleges in India. Though her career took her into the computer industry, Geetha has continued to read both individually as well as part of a book club in Newmarket, Canada where she lives.
Latest posts by Geetha Kulkarni (see all)