★★★★★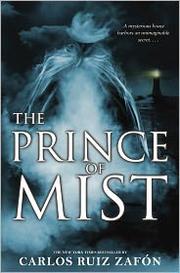 ISBN: 9780316044806
Publisher: Little, Brown 2011
Pages: Links: WorldCat • Read Online • LibraryThing • Google Books • BookFinder
I've reviewed Ruiz Zafon's books before (The Shadow of the Wind) and so thoroughly enjoyed his other work that I couldn't help but pick up one of his earlier novels, promoted as a young adult horror novel.
Set in 1943 Europe, the story's main protagonist is Max, a blend of dreamy inventor, worried young adult and curious teenager. Max's father decides to relocate the family to the seaside to try and escape some of the horrors of the war and they move into a little house previously owned by reknowned scientist, Jacob Fleishman. Local history has it that Fleischman and his wife first found tremendous joy, and then great loss at this seaside house, and both passed away there soon after. Clearly the house has some deep shadows – soon after moving in the family discover some very odd film rolls, and a short distance away Max comes across a very sinister cemetry of statues.
Mysterious and chilling events follow each other in quick succession – Max's sisters are both affected in different ways, and the family is adopted by an oddly terrifying cat.
'Prince of Mist' is part horror, part fantasy, part detective story, as Max gets more and more involved in trying to understand who the chilling statues in the cemetry are, what their connection is to the shipwreck offshore, and how all of those are linked to the house they live in. While not as terrifying as some other horror novels that I've read, there were one or two passages that were definitely spine chilling and might cause readers to feel temporary unease with empty houses.. or say deep cupboards!
Maybe because it's a young adult novel the book is relatively slim (though that logic obviously didn't hold for any of the Harry Potter books) and to some extent that left me disappointed. I felt like I wanted more history, more background, more character development – in short, I wanted the same level of complexity and involvement that made Shadow of the Wind such an engrossing read. That said, this book is just as gripping, albeit shorter, and I raced through, always engaged with the characters.
"I'm a confessed bookaholic, but haven't had the nerve (or ingenuity) to make a career out of that. So I do the next best thing - I spend my free time reading, buying, borrowing and discussing books... and books about books."

Maya always has three books going at the same time - a different book for every mood. She loves exploring new authors, but every now and then she sinks back into the comfort of old favourites like murder mysteries and Regency romances. A corporate butterfly, Maya lives and works in Bangalore, India.
Latest posts by Maya Chandrasekaran (see all)