★★★★★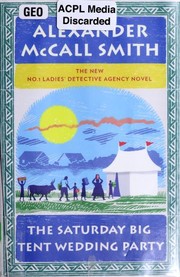 ISBN: 9780307378392
Publisher: Pantheon Books 2011
Pages: 213 Links: WorldCat • Read Online • LibraryThing • Google Books • BookFinder
Today's post is actually about two books, The Saturday Big Tent Wedding Party by Alexander McCall Smith, and Baking Cakes in Kigali by Gaile Perkins. Yes, they're both set in Africa, but that's hardly the reason for a joint post – that would make as much sense as combined reviewing of Chimamanda Adichie and McCall Smith. No, the reason I'm covering them together is because of their similarity of spirit. 
First, the familiar. In The Saturday Big Tent Wedding Party (which I'll just refer to as Saturday… from now onwards!) we're back in Botswana and in familiar territory. For all those who haven't read any of the series before, the books centre around the 'traditionally built' Precious Ramotswe, proprietor of the No. 1 Ladies Detective Agency, wife, mother and feminist. In this latest installment, Precious is as busy as ever – she has an intriguing case of cattle-killing to solve, besides of course, helping her colleague Mme Makutsi prepare for her wedding day, and advising her husband's apprentice on matters of the heart and morality. As always, things are not quite as they seem anywhere, and Precious is also somewhat depressed by the loss of her beloved white van.
★★★★★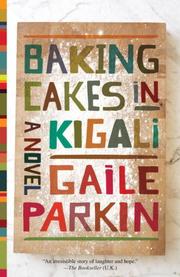 ISBN: 9780385343435
Publisher: Delacorte Press 2009
Pages: Links: WorldCat • Read Online • LibraryThing • Google Books • BookFinder
Baking Cakes in Kigali (Baking…) revolves around Angel Tungaraza, a Tanzanian expatriate, settled in Rwanda. Angel is not only a pillar of the local community, but in many senses its, agony aunt. Every occasion, happy or somber, calls for a cake, and Angel becomes the recipient of each customer's stories and secrets. As she involves herself in their lives (and this calls for much more than baking brightly-hued, enthusiastically-iced cakes), Angel struggles to move on from her own secrets and losses. Set in a compound in Kigali, the book is populated with vibrant characters and plots – perhaps a little over populated, but that's a minor gripe.
Both Precious and Angel are strong, successful women, charting a course for themselves between running a business and caring for a family. While Saturday… has a clearer single plot – the killing of cows, Baking… is a bit more meandering. There are a number of inter-connected characters and story lines, but only Angel is central to all of them. Both the books share a wonderful lightness of tone and ability to bring the community to life, but whereas Saturday… refers only obliquely to the social and political situation, the recent genocide in Rwanda and the constant fear of HIV is a recurrent and underlying theme in Baking… and these give the story a greater sense of depth. Precious and Angel run the risk of coming across as just too good and saccharine to be real, but they both just manage to redeem themselves though, through their naughty senses of humour.
Saturday… is the most recent of a long, and vastly enjoyable series, so I largely knew what to expect.
Baking… on the other hand, is an introduction to a new author, character, and hopefully, and equally successful series.
Fun, easy reads, both of them!
"I'm a confessed bookaholic, but haven't had the nerve (or ingenuity) to make a career out of that. So I do the next best thing - I spend my free time reading, buying, borrowing and discussing books... and books about books."

Maya always has three books going at the same time - a different book for every mood. She loves exploring new authors, but every now and then she sinks back into the comfort of old favourites like murder mysteries and Regency romances. A corporate butterfly, Maya lives and works in Bangalore, India.
Latest posts by Maya Chandrasekaran (see all)