★★★★★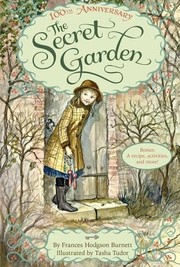 ISBN: 9780440977094
Publisher: Dell 1987
Pages: 287 Links: WorldCat • Read Online • LibraryThing • Google Books • BookFinder
I've been re-reading my old favourites lately, and Burnett has always been a stalwart of that long list. Her writing never fails to draw me in, to empathise with the characters, and to bring alive in my imagination the places and events she describes.
Discovered living alone in their house in India after her parents and all the servants have been felled by an epidemic of cholera, Mary Lennox is sent to Misselthwaite Manor, to live in the care of her uncle Archibald Craven. At the age of ten, she is a spoilt, sallow-faced little girl with nothing to recommend her to anyone – neither looks nor manners, nor any sort of charm. Her early years in India, where she was brought up by servants who catered to her every whim has done her not a whit of good.
At Misselthwaite, Mary is given a set of rooms and a maid, who is astounded at her behaviour. The maid – Martha – slowly wins her over with stories of her family. She also tells her that Mr Craven's wife had died and that she loved the gardens. Mary spends more and more time out of doors, and her disposition as well as her physical health begin to improve. It's during her wanderings that she discovers the head gardener, a robin, and is led to the discovery of 'the secret garden', which she begins to bring to life as her own. The only person in on the secret is Dickon, Martha's brother, who becomes her good friend.
During the night, she is sometimes woken by strange cries, and one night, she follows the noise and, to her surprise, discovers her cousin Colin. He is sickly, has been ignored by his father since his mother's death, and is as spoilt as Mary had been when she arrived at Misselthwaite Manor. The cousins quickly discover a bond, and as Colin's health improves, they conspire to keep it a secret in the hope that his father will come home and be happy to see him.
The book ends, as expected, on a happy note… it's the comparison of nature and its growth, resilience and healing power that I find compelling, linked as it is to the change in the children, and the reconciliation of father and son. It's a story that teaches many lessons without being preachy, and in the gentle language of that era which is so restful to read. Predictable it may be, but always charming as well.
"To be honest, I've always been a bookworm. So I've turned my love of books into a design career that I enjoy."
A book designer, Arati has always enjoyed books and the world of imagination that they open up. She is extremely accident-prone, due entirely to absent-mindedness caused by thinking about books and their contents, instead of paying attention to what she's actually supposed to be doing. She reads multiple books simultaneously, and her choices range from cookbooks and design manuals to fantasy, crime and Regency romances.
She lives and works in London, UK and sells her art on paper and textiles at
Etsy
Latest posts by Arati Devasher (see all)