★★★★★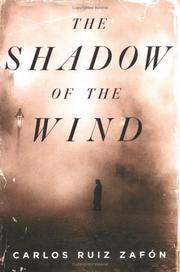 ISBN: 1594200106
Publisher: Penguin Press 2004
Pages: 486 Links: WorldCat • LibraryThing • Google Books • BookFinder
A fantasy, suspense, love story about a mysterious book and its fascinating author, originally written in Spanish, and set in 1950s Barcelona – how could I not have been hooked!
So, the background. Daniel Sempere is the son of a bookseller. One night when he's 10, his father takes him to the Cemetery of Forgotten Books, and there he discovers The Shadow of the Wind, by Julian Carax. Soon after that, his life changes, as he becomes obsessed with Julian Carax and hears about a mysterious man with a burnt face, who goes around destroying Carax's book. Daniel is drawn irresistibly into the life of Carax, his friends and lovers and each of their secrets, his voyage of discovery and detection set against the violent backdrop of Facist Spain.
Like Daniel, I was irresistibly drawn in from the very first page. The writing is sometimes a little florid and melodramatic, but you can't help buy get sucked into the mystery and intrigue. And through it all, I kept picturing the book as a big budget Hollywood movie.
As a geeky book obsessed reader I might have wanted a bit more about books in general, and a little less sturm and drang, but that's a minor criticism. Overall, the story is gripping and a great read. I wonder if they'll make a movie of it!
"I'm a confessed bookaholic, but haven't had the nerve (or ingenuity) to make a career out of that. So I do the next best thing - I spend my free time reading, buying, borrowing and discussing books... and books about books."

Maya always has three books going at the same time - a different book for every mood. She loves exploring new authors, but every now and then she sinks back into the comfort of old favourites like murder mysteries and Regency romances. A corporate butterfly, Maya lives and works in Bangalore, India.
Latest posts by Maya Chandrasekaran (see all)