★★★★★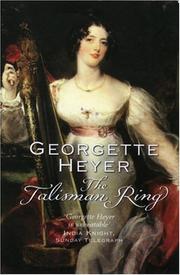 ISBN: 9780099474395
Publisher: Arrow 2005
Pages: 320 Links: WorldCat • LibraryThing • Google Books • BookFinder
I don't remember exactly how old I was when I was first introduced to Georgette Heyer (probably 13, or some such impressionable age) but I do remember that The Talisman Ring was her first book that I read – and I was instantly hooked.
Let me preface by encouraging the uninitiated not to club Ms Heyer with the Mills and Boons of the world. These books, while regency romances, have far more depth than I could ever imagine a pink and white pulp romance to have. Yes, there is always a main female protagonist and happy endings generally ensue, but this is intellectual romance, not erotica.
So, disclaimers done, on to the book. Sir Tristam Shield (predictably tall, authorative, aristocratic) is called to the deathbed of his great uncle, Baron Lavenham, and is instructed to marry his French born cousin, whimsical, beautiful, Eustacie. The Baron's heir, Ludovic, has been banished from the country after killing a man over his talisman ring. Baron Lavenham dies before his instructions can be carried out and almost immediately after, horrified by the stolid and 'unimaginative' nature of her fiance, Eustacie decides to go in search of adventure by running away.
Naturally, she finds it almost immediately – Eustacie falls into the hands of smugglers, one of whom is revealed to be the romantic Ludovic Lavenham. What ensues is a story of smugglers, Bow Street Runners, murder, sinister valets and even secret passages – all written with the lightest of tones. And yes, of course, there are the obligatory romances.
Georgette Heyer's regency romances are not perfect of course. They require a willing suspension of political correctness, class and (sometimes, though very rarely) gender equality. They make up for this though, with sharp characterisation, a humorous tone, and great insights into aristocratic life in Regency England. Over all, they tend to be great fun, and The Talisman Ring especially, has some laugh-out-loud sections that even now, I'm loath to read in public places for fear of guffawing and being looked at strangely.
So yes, it is a romance novel, but it's also so much more – a mystery, a thriller, and even a historical commentary. A great read!
"I'm a confessed bookaholic, but haven't had the nerve (or ingenuity) to make a career out of that. So I do the next best thing - I spend my free time reading, buying, borrowing and discussing books... and books about books."

Maya always has three books going at the same time - a different book for every mood. She loves exploring new authors, but every now and then she sinks back into the comfort of old favourites like murder mysteries and Regency romances. A corporate butterfly, Maya lives and works in Bangalore, India.
Latest posts by Maya Chandrasekaran (see all)