★★★★★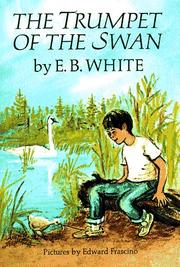 ISBN: 9780064400480
Publisher: HarperCollins Publishers 1973
Pages: 210 Links: WorldCat • Read Online • LibraryThing • Google Books • BookFinder
Most people have seen the film versions of Stuart Little and Charlotte's Web. For those with a working professional relationship with the world of writing, the name E.B.White is often most commonly associated with Strunk and White's 'The Elements of Style', often recommended as the instructional textbook for any aspiring writers. But E.B.White was one of the great writers of children fiction, and is included in the children's literature hall of fame, along with Roald Dahl, Richmal Crompton, and Enid Blyton. Suart Little and Charlotte's Web are the best known of the film adaptations of his books. There was a 2001 release of a film adaptation of The Trumpet of the Swan (TotS), but it had a limited release and fared very poorly at the box office, with most critics panning it for not being true to the original story and having unmemorable songs and bland voicing over, despite the fact that Reese Witherspoon, Seth Green, and Mary Stenburgen, among others, starred as voices.
TotS was his last, and quite possibly the most refreshingly original of the books he wrote for children. Like the other truly great children's fiction writers, J.K. Rowling most prominently, I suppose, his books have a universal appeal. I first read TotS as a twelve year old, and enjoyed it immensely. I'm reading it again after fifteen years, as I write this review, and it's every bit as good.
When writing for children, White's central theme is always anthropomorphic, i.e. intelligent animals, capable of speech, literally, and often sententiously. Charlotte's Web had an eponymous spider, Stuart Little was a mouse, and in a neat little spin, TotS has a dumb trumpeter swan called Louis.
So Louis needs a trumpet, because he can't communicate with his own species. He goes to Sam Beaver, his first and best human friend, who takes him to school, where Louis learns to read, write and communicate with humans quite well. When he returns to his family, however, he still can't talk to other swans. So his father breaks into a music store and steals a trumpet for him. Louis, being an honest swan, decides that he has to get a job and earn enough money to pay back the proprietor of the store for the trumpet. The rest of the book is a wonderfully entertaining tale of the places Louis goes to ply his trade; a scouting camp, the swan boats of boston, and a nightclub in Philadelphia. Naturally, he becomes not a little famous, with a critic describing his playing as 'jewels held up to the light…with emotion that is clean and pure and sustained." More importantly, his trumpet becomes his instrument of love, as he uses it to woo a beautiful young swan called Serena. Or, as Louis puts it for more eloquently, impress her with the intensity of his desire and the strength of his devotion. Not many women are worthy of that. Lucky Louis. His description of his planned musical seduction is worthy of quoting in its entirety:
"I will awaken her with a song of love and desire. She will be drowsy; the sound of my trumpet will enter her sleepy brain and overcome her with emotion. My trumpet will be the first sound she hears. I will be irresistible. I will be the first thing she sees when she opens her eyes and she will love me from that moment on."
The song he chooses to play is 'Beautiful Dreamer, Wake Unto Me', and this moment is particularly poignant, for not only does Louis play so beautifully that the whole zoo stops to listen, but it is the moment where a young swan triumphantly conquers his speech defect. As a motivational ideal, I'm hard-pressed to think of another book where it is so wonderfully realized. On the other hand, if you treat TotS as an allegory, you come away with a slightly different picture. Still, the core values of compassion, understanding and a deep love for the natural world remain true.
"Bibliophilia, or more realistically Bookaholism runs in my genetic make-up. I've grown up being read to, reading, and surrounded by books."

From Bangalore but based primarily in New Delhi, India, Samir has variously been and continues to be a professional musician, a pub quiz host, a political campaign aide, and a student of the guitar, as well as history and international relations. He is currently Research Director for the Global Security Centre in India. He is also a freelance editor and research consultant, having worked for the Ministry of Overseas Indian Affairs, the Public Health Foundation of India, and a McKinsey-IBM KPO, as well as Random House and Oxford University Press. He can be contacted at samirkrishnamurti@gmail.com
Latest posts by Samir Krishnamurti (see all)