★★★★★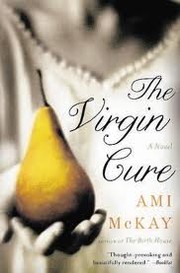 ISBN: 9780061140327
Publisher: Harper 2012
Pages: Links: WorldCat • Read Online • LibraryThing • Google Books • BookFinder
Set in the slums of Manhattan, New York in the 1800s, The Virgin Cure is the story of a young girl, Moth, who is born "to a slum mystic and the man who broke her heart". The novel deals with poverty in the city and the sexual exploitation of young girls. Parents, unable to support their children, sold them, as Moth's mother did, to wealthier families as household help. There they were exploited and ill-treated. Like Moth, many of them ran away and ended up on the streets. Unable to fend for themselves, they were hired by matrons running brothels. The young virgins were in great demand, especially to satisfy the myth that having sex with a virgin would cure a sexually transmitted disease. Many of them contracted the disease only to die an agonizing death.
The theme of the book is disturbing. The only character in the book that somewhat uplifts the reader's spirits is Dr. Sadie, the female physician who works among these women doing her best to provide medical assistance. The character of Dr. Sadie is based on the author's great-great grandmother. The book is a result of the author's research into her family's roots.
The book is made more interesting by the inclusion of newspaper clippings, journal entries and advertisements from the times. The characters are Dickensian, young, living in squalor, exploited and the victims of a society oblivious to their problems. The necessity for laws to protect those marginalized in society – the very young, the very old, and the disabled – is clear.
It is a coming of age novel, revealing the social history of New York in the 1800s. It is a fast read; some of the characters are well developed, though I was left wanting to know more about Dr. Sadie. I was disappointed that the novel is very short on adults of good character. All but one or two of the adults we meet in the novel are predators and all the children are victims. And secondly, I wish the novel had a more uplifting ending. I wish Moth had used Dr. Sadie as her inspiration and used her assistance to take her to a better and more fulfilling place in society.
"Books have entertained me, kept me company, taught me, counselled me, introduced me to wonderful people... what else can one ask of a best friend?"

Geetha`s love of books began when she was a child. She later turned that love into formal education with a Masters in English Literature and then again into a career for a few years, teaching English at Ethiraj and Fergusson Colleges in India. Though her career took her into the computer industry, Geetha has continued to read both individually as well as part of a book club in Newmarket, Canada where she lives.
Latest posts by Geetha Kulkarni (see all)