★★★★★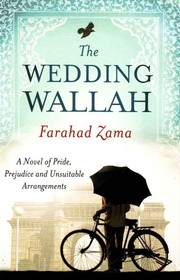 ISBN: 9780349122687
Publisher: London 2011
Pages: 335 Links: WorldCat • LibraryThing • Google Books • BookFinder
With shades of Alexander McCall Smith's No. 1 Ladies' Detective Agency, Farahad Zama's third book continues using Mr Ali and his marriage bureau as a base. For those readers who hadn't read the first two books (I was one), a little background. Mr Ali is an elderly, retired gentleman in Vizag, of respectable means. Once retirement starts to pall, he scouts around for ways to keep himself occupied, and from there is born his marriage bureau. Ably assisted by his wife of 40 years and their young assistant, Aruna, their bureau is now flourishing, and each new family brings an intriguing new story. This time though, the prospective marriage alliance is one that hits much closer to home – their adopted niece, Pari, has received a highly suitable proposal from the scion of a very respected local family. Given that Pari is a widow, Mr and Mrs Ali are thrilled to hear of the proposal from handsome, successful, cosmopolitan Dilawar. Of course, marriages are only made in heaven in fairy tales. In modern day India, there's bound to be a twist in the tale, and early enough in the story we meet Dilawar in Mumbai, struggling to come to terms with his own homosexuality, love and the calls of duty. The story also focuses, though with less emphasis, on two characters whose love story apparently propelled the first book – newly weds Aruna and Ramanujam.
Although initially modelled on McCall Smith, this third novel soon becomes very distinct from his gentle, ambling style, by becoming a sharp commentary on modern Indian life – from the Maoist guerrillas in Andhra Pradesh to the call centre and mobile phone generation.
The novel has some notable strengths, and some equally notable weaknesses. First, what I liked about the book. The story is an easy, quick read and some of the characters are beautifully drawn out. Specifically, the oldest relationship in the book – that of the Alis – is poignantly depicted. Similarly, Dilawar's internal struggles with duty and desire come across as very realistic, as does his own mother's reaction to his 'condition'.
In general, the book focuses, with good effect, on relationships – the Alis, Aruna and Ramanujam, Pari and Rehman, Pari and her adopted son Vasu, and Dilawar's parents. Having said that, some characters and conversations seemed a tad unnatural. A young Vizag girl who has never been out of the country uses Americanisms like "I reckon", and Dilawar, who discusses Almodovar and Reislings with equal ease, seems somehow completely unaware that gay couples in other countries can marry. At the same time, perhaps one of the drawbacks of having so many central characters in a reasonably slim novel (330 pages in paperback) is the fact that none of them is given enough screen time (so to speak) to be completely developed.
The book is clearly written with a non Indian audience mind, so the regular explanations of Indian food, communities, religious differences and cultures sometimes strike an Indian reader as unnecessary and jarring..but that's a minor quibble. Over all, Zama still seems to be discovering his own style as an author, so while I did find that the tone in this book was occasionally inconsistent, it is definitely an entertaining read; not only am I going to go back and read the earlier books in the series, I'm also looking forward to his next installment of the adventures of Mr Ali and Co.!
"I'm a confessed bookaholic, but haven't had the nerve (or ingenuity) to make a career out of that. So I do the next best thing - I spend my free time reading, buying, borrowing and discussing books... and books about books."

Maya always has three books going at the same time - a different book for every mood. She loves exploring new authors, but every now and then she sinks back into the comfort of old favourites like murder mysteries and Regency romances. A corporate butterfly, Maya lives and works in Bangalore, India.
Latest posts by Maya Chandrasekaran (see all)