★★★★★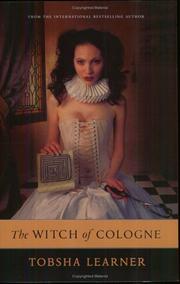 ISBN: 0765314304
Publisher: Forge 2005
Pages: Links: WorldCat • Read Online • LibraryThing • Google Books • BookFinder
Ruth bas Saul is a woman ahead of her times. Practiced in the science of medicine and mid-wifery, educated and questioning, a student of that dangerous 'heretic', Spinoza, and an exponent of the Kabbalah, Ruth is everything that 17th century Cologne distrusts. In fact, she is often called a witch, and when a fanatic Spanish Inquisitor (with a secret axe to grind) enters the neighbourhood, she becomes the first target. Ruth is aided, most unexpectedly, by an aristocratic German canon, Detlef von Tennen.
What follows is a story of adventure, intrigue, love, lust and danger.
Dark, steamy, intense and weird . This isn't an easy read very often (there were scenes of extreme violence that had me extremely uncomfortable) but it's certainly a page turner. I wouldn't say that the characterization is brilliant – very often it seems like Ruth and Detlef (the two main protagonists) are bundles of cliches and their behavior is predictable.
The language, while colourful, is sometimes overly melodramatic. There are even some attempts at broaching the supernatural, through the introduction of a malevolent female power called Lilith. Frankly I thought the book could have done without Lilith! And the cover picture is inexplicable and more than mildly annoying – why is the woman half dressed?
What really propels the book, though, is the pace of the story and it's historical and political underpinning in a time that later came to be known as the Age of Enlightenment. The war between superstition and science is an abiding theme; that and the political and religious debates make the book an interesting read.
"I'm a confessed bookaholic, but haven't had the nerve (or ingenuity) to make a career out of that. So I do the next best thing - I spend my free time reading, buying, borrowing and discussing books... and books about books."

Maya always has three books going at the same time - a different book for every mood. She loves exploring new authors, but every now and then she sinks back into the comfort of old favourites like murder mysteries and Regency romances. A corporate butterfly, Maya lives and works in Bangalore, India.
Latest posts by Maya Chandrasekaran (see all)