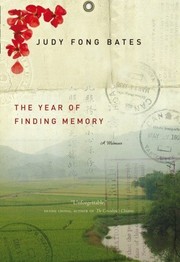 Links: WorldCat • Read Online • LibraryThing • Google Books • BookFinder
The author is the daughter of Chinese Immigrants to Canada and her memoir chronicles her trips back to China to connect with her roots, but more importantly to understand her parents. We are all the sum total of the stories of our lives and often children do not understand their parents only because they do not know the stories of their parents' experiences. On two trips Judy Fong Bates pieces together the story of her parents' lives. The reader wishes she had done this while her parents were still alive so she could have told them "I Understand".
This then is the story of a child's discovery of her parents' past leading to her better understanding of them; it is also a poignant story of an immigrant's life. An immigrant comes to a new country in search of a better life and there is much to be gained by that, but much is also lost in the transfer. The author's parents do not speak English. Her father is an intellectual reduced to hand washing clothes in his laundry in Canada. Her mother came from a well respected family and was a teacher, before she came to Canada. At one time in China they were in love, discussed Confucius, laughed, ran a business.
This is what Fong Bates finds out about them, not how she knew them. The father she knew was a diminished man, diminished by years of indignity and humiliation. The mother she grew up with was full of bitterness, bitter that life did not give her what she deserved. The hardships of life had dried up all their love. The book is slow, quiet and thoughtful as the author records all her observations, thoughts and feelings. Her parents' past is gradually revealed and the reader, along with the author, comes to know them better.
Descriptions of rural China, Chinese customs, the Cultural Revolution and its impact, racist policy against the Chinese in Canada (Exclusion Act which prevented the Chinese from sponsoring family to Canada, the infamous head tax) and other historical & cultural details add to the book.
The prose is simple and the author does a remarkable job as she goes back and forth between various times and places.
This is not a book for lovers of action or those looking for an exciting read. It is the kind of book you will think about and relate to.
"Books have entertained me, kept me company, taught me, counselled me, introduced me to wonderful people... what else can one ask of a best friend?"

Geetha`s love of books began when she was a child. She later turned that love into formal education with a Masters in English Literature and then again into a career for a few years, teaching English at Ethiraj and Fergusson Colleges in India. Though her career took her into the computer industry, Geetha has continued to read both individually as well as part of a book club in Newmarket, Canada where she lives.
Latest posts by Geetha Kulkarni (see all)