★★★★★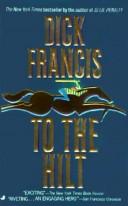 ISBN: 9780613164375
Publisher: Tandem Library 2001
Pages: Links: WorldCat • LibraryThing • Google Books • BookFinder
This has to be one of my favourite Dick Francis novels. Aside from the fact that his writing style is pleasing and action is fast-paced, and that I always learn something new, I love that he writes about simple people in extraordinary situations. He creates unerringly charming characters, the sort that you'd like to know in real life, and I've never yet taken more than one session to read a book of his! Unputdownable!
Alexander Kinloch, a somewhat eccentric but successful painter, lives in an isolated bothy on his noble Uncle's (referred to as Himself) lands in Scotland, emerging from isolation every couple of weeks for provisions. He receives a summons from his loving mother calling him to the bedside of his stepfather, who, despite all his failed attempts to get Alexander to join his prosperous brewery business, has retained affection and respect for him. His mother may have exaggerated the urgency of the matter, but Alexander is surprised to hear that he is required to hide a horse for his stepfather, who is under the impression that Alexander 'knows how to hide things', an impression fostered by Himself (whose Hilt is also in Alexander's care). This is necessitated by the fact that his brewery is going bankrupt due to the dishonesty of someone in the business (there's a potential spoiler here, so I won't say more). In addition he gains power of attorney, which leads to a great deal of inconvenience for him, including being beaten up, chased, and nearly killed several times over!
The characters are beautifully rendered, realistic to the very last, with no exaggeration. And despite the rather offhand manner in which the protagonist describes events, it is patently obvious that he is a man of honour, who takes his loyalties and friendship very seriously, no matter the cost; an all-round misunderstood good guy. The curious investigators Young and Uttley are a wonderful surprise in themselves, and as charming as Alexander himself. His stepfather is portrayed wonderfully, dothery and dithery though he is; his mother is helpless but loving; his wife, from whom he is separated, is a gem; the stepfather's daughter and son-in-law are as vicious as you would wish them to be; the villains are villanous; and Zoe Lang… ah, well, I'll leave you to find out for yourself.
Highly recommended. Go and borrow/buy it now!
"To be honest, I've always been a bookworm. So I've turned my love of books into a design career that I enjoy."
A book designer, Arati has always enjoyed books and the world of imagination that they open up. She is extremely accident-prone, due entirely to absent-mindedness caused by thinking about books and their contents, instead of paying attention to what she's actually supposed to be doing. She reads multiple books simultaneously, and her choices range from cookbooks and design manuals to fantasy, crime and Regency romances.
She lives and works in London, UK and sells her art on paper and textiles at
Etsy
Latest posts by Arati Devasher (see all)