★★★★★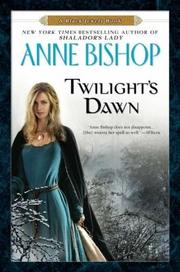 ISBN: 9780451463784
Publisher: Roc 2011
Pages: Links: WorldCat • LibraryThing • Google Books • BookFinder
Before anyone gets at all confused, let me state categorically that Twilight's Dawn has nothing to do with the Twilight series. There are a few common elements – superbly beautiful males (never men), strong-willed powerful ladies (never women), vampires (no werewolves), and an interesting assortment of supporting characters. But the differences are much more compelling, and while love, life, and death are the common themes to both the series, I personally think that Bishop deals with them far more powerfully, imaginatively, and creatively. That's why I'm reviewing hers, and not Stephanie Meyers' tripe.Some of you may have read my previous review of the first part of the Dark Jewels Trilogy - Daughter of the Blood -, which forms the first three parts of The Realms of the Blood Series. I've decided to jump right from the first to the last, leaving out about five books in between. I debated doing a series review, but the focus and timelines tends to shift, and important characters become temporarily peripheral and different realms and their politics become more important. I also think it would be more compelling if you read the first review, and this one and realize how good the entire series is and go out and get it for yourself.  Most of the detail about the world is included in the first review, the nature of the eroticism in the complex dance of power between powerful men (Warlord Princes) and powerful women (Black Widows and Queens) drawn from the Jungian idea of human relationship structure and so forth; so I'm not going to repeat myself too much.
Twilight's Dawn, like another book in the series (Dreams Made Flesh) is a collection of short stories. In Dreams Made Flesh, there's never any sort of uniformity to the length, some can be a few pages while others take up half the book. Twilight's Dawn, on the other hand, is comprised of four novellas – Winsol, Shades of Honor, Family, and The High Lord's Daughter. Some are just are typical rehashing of the elements Bishop uses in all her previous books (Winsol, Family), while the other two tie up a couple of loose ends. For those of you who recognize the name Falonar, let's just say that Shades of Honor explains quite explicitly a certain remark that Daemon Sadi made in Shalador's Lady.  Family has some interesting themes (serial killers, a stronger exploration of the realm of Hell and Saetan's duties therein as High Lord), and also resolves the Saetan-Sylvia romance. I won't go into detail, but I must admit I liked the way it turned out. The rest of the story was pretty predictable and clichéd, however. The last story though, does have a very strong jaw-dropping moment. While you knew that the series was building up to this particular event (there's even a conversation about it in Shalador's Lady), the mortal nature of it is still quite a surprise, given the longevity of most of the most important characters in the book. Once I got past that though, the outcome was fairly predictable. It is a Happily-Ever-After after all, just not quite the way you'd have expected it to play out.
So I'd just like to say that I think the whole Realms of the Blood Series is well worth reading. There are nine books in total, all excellent and entertaining to newcomers and seasoned veterans of the fantasy genre. Especially since it brings to life a lavishly sensual world, with wonderfully potent dark magical characters set against a complex, original, well-realized and remarkable background world.
"Bibliophilia, or more realistically Bookaholism runs in my genetic make-up. I've grown up being read to, reading, and surrounded by books."

From Bangalore but based primarily in New Delhi, India, Samir has variously been and continues to be a professional musician, a pub quiz host, a political campaign aide, and a student of the guitar, as well as history and international relations. He is currently Research Director for the Global Security Centre in India. He is also a freelance editor and research consultant, having worked for the Ministry of Overseas Indian Affairs, the Public Health Foundation of India, and a McKinsey-IBM KPO, as well as Random House and Oxford University Press. He can be contacted at samirkrishnamurti@gmail.com
Latest posts by Samir Krishnamurti (see all)