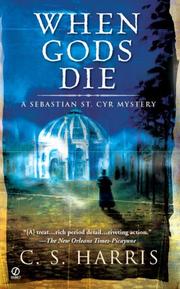 Links: WorldCat • LibraryThing • Google Books • BookFinder
At the Royal Pavilion, Brighton, the beautiful, very young wife of an old Marquis is found dead in the arms of the Prince Regent, with a jeweled dagger from the Regent's collection of Stuart memorabilia, that once belonged to Bonnie Prince Charlie, in her back. An ill-fitting green silk dress and an ancient bluestone and silver triskelion necklace said to have been worn by the Druid priestesses of Wales is her only adornment.
Shadowed by rumors of his last involvement with a murder case, Sebastian St Cyr, Viscount Devlin is lured into a dangerous investigation of the Marchioness's death. In discovering that the Prince Regent is not as innocent as he is portrayed by his aides and the Marchioness's life held more than it seemed… he realises that, in fact, nothing is as it should be.
With his actress lover, and his young Tiger, Devlin follows a twisted trail that leads from gay Brighton to the dismal London slums. When another murder follows, Devlin unravels a conspiracy that reveals secrets from depths of the dead Marchioness's life and love to his own family's hidden truths, and solves the mysterious death of the triskelion necklace's last owner – Devlin's own mother.
"To be honest, I've always been a bookworm. So I've turned my love of books into a design career that I enjoy."
A book designer, Arati has always enjoyed books and the world of imagination that they open up. She is extremely accident-prone, due entirely to absent-mindedness caused by thinking about books and their contents, instead of paying attention to what she's actually supposed to be doing. She reads multiple books simultaneously, and her choices range from cookbooks and design manuals to fantasy, crime and Regency romances.
She lives and works in London, UK and sells her art on paper and textiles at
Etsy
Latest posts by Arati Devasher (see all)