★★★★★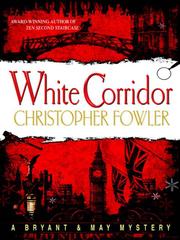 ISBN: 9780553903768
Publisher: Random House Publishing Group 2007
Pages: Links: WorldCat • LibraryThing • Google Books • BookFinder
As an avid murder mystery reader, I've found it very difficult to come across the perfect new (new in the sense of being hitherto unknown to me) crime series, but I think Christopher Fowlers eccentric and bizarre 'Peculiar Crimes Unit' stories might be just that.
As suggested by the name, the Peculiar Crimes Unit of the London Metropolitan Police is an odd and often derided branch of the main police corp.
The unit's focus is on solving those crimes that don't fall under the purview of the main branch, and under the leadership of Arthur Bryant And John May, the unit does just that. Sure, the detectives employ highly unorthodox means (ranging from experimenting with biological warfare to having their own go-to psychics) but they are also wildly successful at solving crimes.
This particular novel follows several different trajectories.
Having been foisted with an enforced Christmas break, Bryant invites May to join him for a convention of psychics. The two set off on their dubious mission, but get caught in a blizzard, and stranded somewhere in Dartmoor. Along with them are 25 other stranded cars, and a possible multiple murder. Meanwhile, back at the unit, their second in command and team grapple with a potentially unsolvable crime – the units pathologist is found dead of unknown causes.. in his locked lab. Increasingly, it appears that the murder must have been committed by a colleague, making everyone in the station a murder suspect.
Cut off and connected only by cell phone, Bryant and May are now forced to help their unit solve this crime over a phone. It's the ultimate locked room murder mystery!
And to make matters worse, the unit staff is facing the imminent stationhouse visit of a notoriously difficult princess.
Fowler's style is dry and taut and deeply humourous, and he gently ridicules everything from bureaucracy and hierarchy to blind adherence to procedures. He tells the story from several points of view, and his characteristisation is rich and balanced. The story is engaging and entertaining, holding you enthralled from the first page.
"I'm a confessed bookaholic, but haven't had the nerve (or ingenuity) to make a career out of that. So I do the next best thing - I spend my free time reading, buying, borrowing and discussing books... and books about books."

Maya always has three books going at the same time - a different book for every mood. She loves exploring new authors, but every now and then she sinks back into the comfort of old favourites like murder mysteries and Regency romances. A corporate butterfly, Maya lives and works in Bangalore, India.
Latest posts by Maya Chandrasekaran (see all)