★★★★★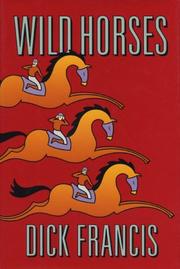 ISBN: 0399139745
Publisher: Putnam 1994
Pages: 319 Links: WorldCat • Read Online • LibraryThing • Google Books • BookFinder
Wild Horses is the thirty-second in the Francis franchise, and reflects the thoroughly polished schematic elegance that an accomplished author possesses. It has the usual formula that has worked so well for him; a young, unassuming, yet extremely talented hero pitted against evil forces out to destroy him and his work. Throw in the customary pretty girl, the dastardly if forgettable villain (in this case a belonephiliac*), the infliction of physical but non-fatal pain which the hero bears with the customary Fransican fortitude, an insider's look into professional racing, and the special 'outside' subject-field (in this case film-direction) and a great new thriller is born. It's uncanny how every Dick Francis book can be boiled down to such a formula, and are yet written with such verve, clarity and elan.
Wild Horses centers around Thomas Lyon, a young but experienced film director shooting a steeple-jump movie called 'Unstable Times' in Newmarket based on the eponymous book that fictionalized a true and sensational murder some thirty years ago when a young woman, Sonia Wells, was found hanging from a barn beam wearing a pink frilly slip and satin heels. The woman's husband, a horse-trainer named Jackson Wells, was the main suspect but the police were forced to drop the case against him for lack of evidence.
Wild Horses begins with Thomas reading the last rites to Valentine, a delirious and dying old blacksmith, who mistakes him for a priest and begs for absolution because he "killed the Cornish boy". When Thomas discovers what this means, an icy cold wave of understanding washes over him. It did over me too. But I'm getting ahead of myself.
The 'cold characters' in the novel are all re-invented for the film by Thomas, as he feels the script is too weak for a mainstream production. This leads to some very amusing confrontations with the screenplay writer, Howard Payne, who is also the original author, who is constantly bemoaning Thomas's butchering of his work. Thomas replies succinctly to the producer, O'Hara, that you can't get good meat without a good butcher. Also, later in the film, Thomas makes the point to Howard that he only writes what Howard won't. Howard, on the other hand, almost costs Thomas his job because of his gratuitous spleen-venting.

As the story unfolds, it becomes clear that Thomas is getting a little too close to discovering the real truth behind Sonia's death. Valentine dies and leaves all his books to Thomas. This upsets Paul Pannier, the bullying, blustering and totally unlikable son of Valentine's sister, Dorothea. Paul is the sort of person who brings out altruism in everyone. As the filming goes on, attempts are repeatedly made to thwart the film and recover potentially incriminating evidence from Valentine's books by the villainous belonephiliac and the gang connected with Sonia's murder. Dorothea is viciously assaulted, and Thomas is stabbed with an Armadillo knife, a rare and valuable knife. But, as usual, our hero grits and bears it with customary courage and resolve plowing ahead determinedly to uncover the truth. This leads him to a Professor Derry, a knife expert with a surprising connection to Valentine. Only after talking to him does Thomas (and us) understand how fanatical people can become about knives. They can be carried anywhere, disguised as pens, stitched under coat lapels, or even in the form of everyday objects. As Thomas gets closer and closer to the truth, and gets to know the real people involved, the quality of the movie he's making evolves with him (it eventually won two Oscars, though not for best director, sadly), and the finished product is of such quality that O'Hara decides to give Thomas a big budget production, with the same male mega-star. The conclusion of the book is a superb narrative, and the unmasking of the villain is a deft weaving of the connected but distinct threads in the plot.
Wild Horses is perhaps the most layered of any of Dick Francis's books, with the book within a movie within a movie plot, although with nowhere near the convoluted multi-level narrative structure of, say, Heart of Darkness. Meticulously researched, Francis presents with verve and clarity what it takes to shoot a medium-budget Hollywood movie in the 1990′s. Medium budget usually entails a high-powered producer, top quality cinematographer,one mega-star, one deliciously pretty new actress, and a young but experienced director. As all of his novels are told from the first perspective, the book provides some fascinating insights into the world of film-making, revealing in superbly written detail the thought and process behind large scale film direction. Unlike conventional books about making movies, the importance of the cinematographer is especially highlighted. I also finally found out what grips and gaffers are too.
I recommend you read this as perhaps your second or third Dick Francis. Horses, as always, form a part of the narrative, it isn't the central narrative of Wild Horses. The making of the movie is dominant here. His earlier books are directly centered in the racing world with a first-person protagonist intimately connected to it. So I'd plug for either Break In or High Stakes as a first novel.
* A sexual obsession with sharp objects.
"Bibliophilia, or more realistically Bookaholism runs in my genetic make-up. I've grown up being read to, reading, and surrounded by books."

From Bangalore but based primarily in New Delhi, India, Samir has variously been and continues to be a professional musician, a pub quiz host, a political campaign aide, and a student of the guitar, as well as history and international relations. He is currently Research Director for the Global Security Centre in India. He is also a freelance editor and research consultant, having worked for the Ministry of Overseas Indian Affairs, the Public Health Foundation of India, and a McKinsey-IBM KPO, as well as Random House and Oxford University Press. He can be contacted at samirkrishnamurti@gmail.com
Latest posts by Samir Krishnamurti (see all)