★★★★★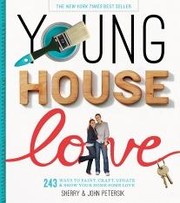 ISBN: 9781579654788
Publisher: Artisan 2012
Pages: Links: WorldCat • Read Online • LibraryThing • Google Books • BookFinder
Young House Love, a blog about home decoration and renovation, is written by Sherry and John Petersik. They have been such successful bloggers that it's become a full time career.  I've been following them for a few years now, and it has long been my ambition to have a home as beautiful as theirs, and the Petersiks' advice and design philosophy works so well, even for renters like us.
When they revealed that they'd been offered a book deal, I, among the many many many readers, was ecstatic. Unfortunately, though I pre-ordered the book from Amazon UK, I was out of the country at the time, and it took me nearly a year to get my eager little paws on it. And what a treat that turned out to be! It's been over a year now since I've had the book, and my review is only now being written because every time I pick it up, I end up reading it rather than writing my blog post about it. This draft has been saved for a very long time. That in itself should tell you how much I love it.
Young House Love: 243 Ways to Paint, Craft, Update & Show Your Home Some Love sits on the top of my little pile of books on a table within easy reach of my comfortable sofa (the clock and flowers have moved elsewhere since this photo was taken).  It's got everything from major projects that I will have to hold off on until we own a home, to little tips that I use all the time – table settings, bathroom decor, and how to make your bedroom look great! Other tips are things that I already do, but it was good to see them mentioned here for those who don't: using meaningful things to decorate instead of just filling space, inventorying textures in the room, not being too matchy-matchy, using a variety of table settings and non-traditional vases, making your own art, cataloging what you used in your home – paint, cloth, sources of the furniture and so on – to keep track of or replace, and cycling or moving around accent pillows are all essential ingredients for an elegant yet comfortable home.
I particularly like the fact that they included a few projects by guest bloggers. Their website also has links to the original articles on these, as well as some extra info on a few projects which were derived from previous blog posts. There have been some criticisms online about the fact that not all of the content is original – as in has been posted on the blog as projects for the Petersiks' own home – but I do not consider this a valid comment, as the book market is rather varied, and may not consist entirely of readers. Though I do think that anyone who buys the book and loves it will quickly become addicted to the Young House Love blog.
As a book designer myself, I must commend Alissa Faden and Michelle Ishay-Cohen, on a job beautifuly executed. They have maintained the fun, quirky feel of the Petersiks as bloggers themselves, and yet translated that into a book that is easy on the eyes as well as immensely practical. The only minor criticism is that the matte paper used on the cover is a dust and dirt magnet, especially when kept open next to whatever project I happen to be working on. The book is a great standalone as well as reflecting the blog from which it was derived… and as with the blog, the index has a list of what was sourced and where, so you can do the same.
I've already gone through several small projects; the more notable ones are listed here (by page number/tip number to save you the trouble of trying to locate them), and I will take pictures at some point to add to the younghouselove online archive of projects inspired by the book -
24/1: wallpapered bookcase backs – because we have standard rental stuff

34/9: adapted this to making a no-sew cushion cover

55/23: I did paint the lantern, but then found we couldn't unscrew the existing lantern in our rental flat without breaking the bulb as well as holder – sadness; the lantern has been put away for future use

108-111/62-64: all the bed ideas were easy to do, and the slipcover is in progress!

136, 139, 141/85, 89, 91: stylish bathroom storage has amped up the elegance as much as you can in a standard bathroom – and now I always stock the fancy stuff because I am addicted to it

All the organising projects in the STOW chapter cam in handy, and I re-use them all the time

168/117: Sherry and John's picture hanging skills are legendary, and they had a frame wall in the hall of their second house that I am still envious of, and am totally going to copy some day. These tips worked so well for our tiny 'above the ugly rental leather couch' frame wall, and all our frames are now white

221/163: advice on plants that don't die – always essential!

260 – the entire chapter CHEERS: Entertaining Ideas is a staple, and I dip into it nearly every weekend
I followed their instructions, and they turned out absolutely perfect. Next projects… 51: etched glass containers and 298 – paint your (ugly blue) curtains (and make them YOUNG-HOUSE-LOVED – forgive the pun, please?). And maybe 246 onwards – updating our standard lamps to make them more us.
Above all, as their book video emphasises, the book, in text, images, content and overall character, reflects Sherry and John's personality and design style. Highly recommended.
Did I mention they were offered a two-book deal of which this is only the first? Really looking forward to the second instalment!
If the video above didn't work for you: Young House Love's video of their book
"To be honest, I've always been a bookworm. So I've turned my love of books into a design career that I enjoy."
A book designer, Arati has always enjoyed books and the world of imagination that they open up. She is extremely accident-prone, due entirely to absent-mindedness caused by thinking about books and their contents, instead of paying attention to what she's actually supposed to be doing. She reads multiple books simultaneously, and her choices range from cookbooks and design manuals to fantasy, crime and Regency romances.
She lives and works in London, UK and sells her art on paper and textiles at
Etsy
Latest posts by Arati Devasher (see all)